Ultimate Goop is the Ultimate version of
Goop
. He first appeared in
You're Such a Sloth!
when Goopie turned into Ultimate Goopie.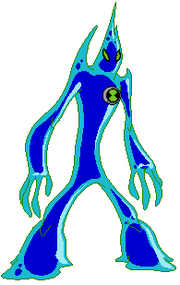 Appearance
Edit
Ultimate Goop is now blue, taller and more muscular. He has four arms and four legs and his UFO is gone. Sometimes he changes his shape so that he looks like regular Goop but blue.
Powers and Abilities
Edit
Ultimate Goop has the ability to change his appearance. He can also become water. Ultimate Goop can absorb water making himself larger. He can shoot water, goop and acid. He can shoot plain water or goop and then after it has been shot he can change it so that it is an acidic substance.